Browsing Category: "Travel and Hiking"
.
Goa is a small state in West India. It's a beautiful beach town with plenty of activities for all to pursue, with its amazing beaches, fun night life and a wide range of activities to get your teeth into.
Motorbike
Whilst your there, it's a great idea to rent a motorbike. It's an exhilarating way to view the city, and petrol is pretty cheap there too. You'll get to cut the traffic and cut taxi prices.
Water sports
With its numerous beaches and lengthy coastline, Goa provides an ideal location for water sports. Whether it's windsurfing, jet-skiing or surfing you're interested in, there are plenty of places to rent equipment from. You have a fair choice of beaches to pick from, such as Palolem, a quieter location with smaller waves, where the water is clear and warm. The water sports in Goa are filled with adventure, excitement and not forgetting safety!
There are also a number of restaurants and bars for you to sit back and relax and enjoy some of the finest Indian food and drink. Goa is also recognized as one of the best diving destinations in India. It's home to a massive array of colourful, aquatic creatures for you to discover under water.
You've got the choice to do some less dangerous water activities or be brave and go for something that requires a lot more courage.  The beaches have a dedicated team of professionals to help ensure your safety and well-being.
Trekking
The Sahyadri Hills offers a delight place for some trekking; it's full of challenging trials. You can go alone or you can take part in a group expedition, and discover some captivating, picture perfect views of the area. You can even do some river crossing, rock climbing and rappelling.
Explore Goa on foot and become a proper tourist. Places such as Mollem and Sanguem bring you closer to nature with every step.
Nature
Goa offers plenty of ways to get close to nature. If you're brave enough you can go crocodile spotting. It usually starts at Mandovi River and continues through to the Zuari River. It's a thrilling experience, and one which is often not permitted. If you prefer a tamer animal then dolphin watching is also an activity that Goa has on offer. It's an incredible opportunity to see these beautiful animals in their natural habitat. There are also a number of wildlife sanctuaries you can go visit, where you can get up and personal with elephants, tigers and lions.
A Tattoo
There are many tattoo artists readily available at most beaches. Don't worry too much; luckily it's not a permanent decision, they'll soon fade away after about a week. It's a famous black henna tattoo, best known in India, which you can get on some part of your body, something to show when you get home.
Shed all your inhibitions and make the most of all the exciting opportunities that Goa offers
This post was contributed by Gail, a travel blogger for Cheapflights
Aside from traveling, hiking is also one of the activity I love to spend with my time with.  I sometimes asked  my husband to hike again but he is quite busy on his job and weekend where the only days he can take a rest from it. He is telling me to hike alone if I want to, but I found hiking alone too boring so I stopped asking him about our next hiking activity.
Almost there, one more trail
Hiking is an outdoor activity that consists of walking in natural environments, often in mountainous or other scenic terrain.  Popular hiking place are often design with hiking trails like in Dobongsan, a mountain in Bukhansan National Park, South Korea.
I am not too sure which peak I summit but looking for similar photos online I climbed Jubong Peak, I climbed alone because my husband can't make it anymore, I left him and he promised to wait for me  but eventually left me alone after losing patience on waiting.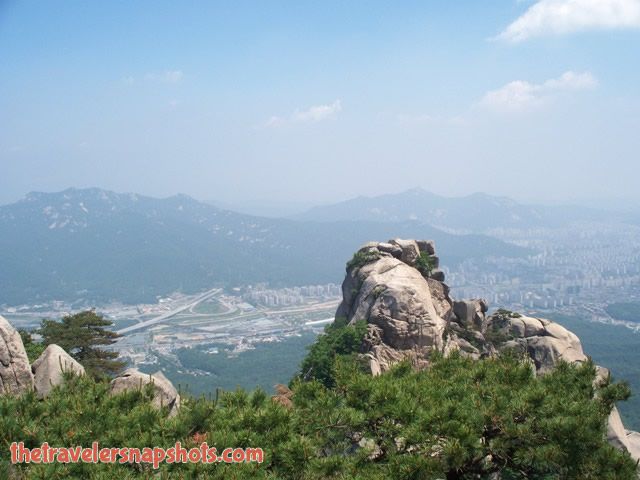 The view of Seoul from Jubong peak
Hiking is a very popular activity worldwide that's why there are numerous hiking organizations.  Hiking has also health benefits like losing excess pounds, improving mental health and decreasing hypertension.